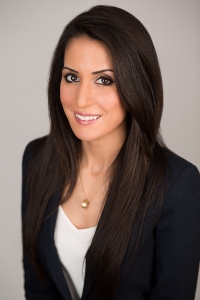 Dr. Sara Samii
Dr. Sara Samii completed her Bachelors of Science degree majoring in General Biology at the University of British Columbia. With her strong passion for health care, Dr. Samii went on to obtain a Bachelor of Vision Science, as well as her Doctor of Optometry degree at Nova Southeastern University in Fort Lauderdale, Florida, receiving honours in all years of her clinical training.
She went on to complete an Ocular disease Externship at the Fort Lauderdale Eye Institute, and Eye Centres of South Florida where she received extensive training from Ophthalmologists in treatment and management of ocular diseases, as well as co-management of LASIK refractive surgery and cataract care. Since her clinical training, she has acquired experience and developed special interest in ocular disease and specialty contact lens fitting.
Dr. Samii is very passionate about providing comprehensive eye care to those less fortunate in countries where such care is a luxury. She was able to volunteer and gain invaluable clinical experience in Mexico in 2013; that experience was so invaluable that she plans to continue providing charitable care in the future.
As an active member in her community and professional networks, Dr. Samii is always seeking new advancements to better serve her patients. She is an active member of the Canadian Association of Optometrists, the College of Optometrists of Ontario, and the Ontario Association of Optometrists. She is fluent in English and Farsi and can perform eye examinations in both languages. Her interests outside of the office include keeping physically fit and travelling.
Dr. Debbie Yeh
Dr. Yeh is a University of Waterloo School of Optometry graduate who has provided eye care services in family oriented practices for several years. She works with her patients to find solutions for their visual needs, using glasses, contact lenses or laser eye surgery as options to enhance their vision. Along with managing a wide variety of eye diseases, she also routinely provides vision training. Dr. Yeh enjoys working with patients of all ages and from diverse backgrounds. She is fluent in English, Mandarin and Min-nan, further expanding Yorkville EyeCare's multicultural environment. Away from work, Dr. Yeh enjoys camping, dancing and reading.
Dr. Caroline Korkis
Dr. Caroline Korkis having achieved the Deans Honour list for two consecutive years from 2010 at McMaster University, graduated with Honours in her Bachelor of Arts Degree. 
Having the deep desire to broaden her educational goals, Dr. Korkis carried to successfully pursue a Bachelor of Optometry Degree in Cambridge, United Kingdom. She participated in elective training in Melbourne, Australia, followed by her training year in London UK, which involved general practice and rotations in Ophthalmology. 
Dr. Korkis practiced as an associate and locum Optometrist for several years in major centres in London and the rural areas of the UK. She returned to Canada in 2018 and earned her Canadian Optometry license in 2019 through the University of Waterloo. Dr. Korkis completed two rotations during this time, spending 10 weeks in Halifax, Nova Scotia with leading ocular oncologist and cataract specialist, Dr. Hesham Lakosha, where she assisted in LASIK pre and post- operative care, cataract surgery and corneal cross linking. Further, she spent 10 weeks in downtown Toronto training with Doctors Samuel and Sharon Markowitz; assisting at the Canadian National Institute of the Blind (CNIB) with low vision rehabilitation. 
Dr. Korkis is very passionate about ocular health with particular interest in dry eye as well as cataract pre and post – operative care and contact lens fitting.  She is a philanthropist as she has facilitated in a school vision screening program in an underprivileged community in Toronto, while supporting charities overseas, particularly with those patients with congenital heart disease. Dr. Korkis loves to travel and enjoys skiing and snowboarding. 
Dr. Korkis is double board certified and is an active member with several professional networks being:
– Canadian Association of Optometrists 
– College of Optometrists of Ontario
– Ontario Association of Optometrists 
– The College of Optometrists, United Kingdom
– General Optical Council, United Kingdom  
Dr. Husain
Dr. Husain completed her Doctor of Optometry from the University of Houston's College of Optometry in 2004. Her extensive clinical training includes working at a veteran's hospital in the San Francisco area, to helping the underprivileged in the inner city Houston area. Committed to giving back to her community, she has served as an Adjunct Professor at the University of Houston's Eye Institute, teaching and mentoring students in the program.
A busy mother of two young children, she and her family relocated from Houston to Toronto in 2017. Double board certified in the US and Canada, she is thrilled to be back in her hometown. Dr. Husain is very passionate about helping others with a particular interest in fitting contact lenses and ocular disease. With over 15 years of experience, she works diligently with her patients to provide them with the best eye care to suit all their vision needs.
An active member of the Academy of Opthalmic Education, Dr. Husain is fluent in English and French. When she is not performing eye exams, she enjoys hiking, yoga, and spending time with her family.